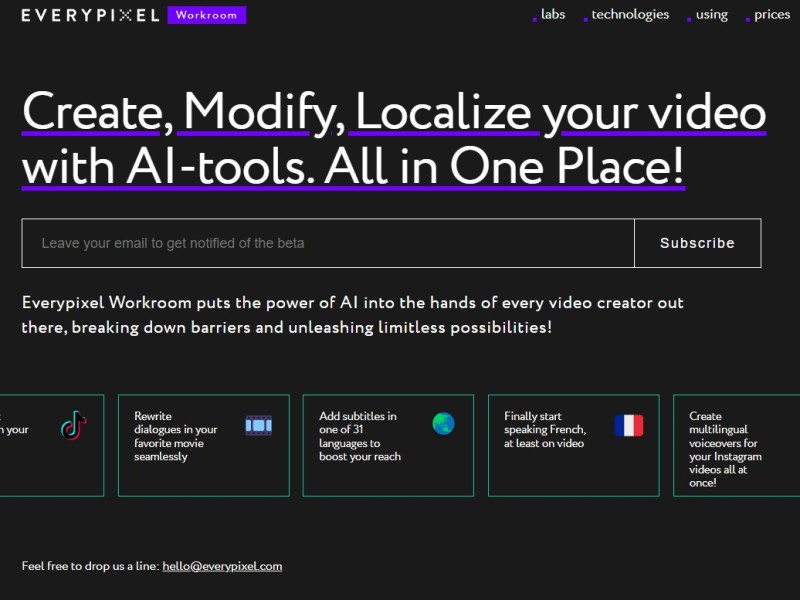 Everypixel Workroom is an all-in-one AI tool suite for video editing, empowering creators with professional-grade technology to enhance their videos and unlock limitless creative possibilities. With features like FaceSwap, LipSync, Voice Generation, and AI Interpreter, users can effortlessly modify dialogues, localize content, generate voiceovers, and more.
FaceSwap: Seamlessly swap faces in videos for creative content, ad campaigns, localization, or anonymization purposes.
LipSync: Sync audio to video effortlessly, allowing users to rewrite dialogues in movie clips or make translated voiceovers appear more authentic.
Voice Generation: Generate voiceovers in 31 languages by inputting text and selecting from a range of stock voices, eliminating the need for robotic voiceovers.
AI Interpreter: Translate subtitles, phrases, and voiceovers into 31 languages, expanding reach and appealing to a wider audience.
Pricing Type: Free Trial
Price: Plans from $15/mo
Platform(s): Web
Promos: Special lifetime prices for early birds!
---
Share this AI Tool:
---
Need custom AI solutions for your business?
At AI Scout Solutions, we build AI tools tailored to your unique requirements. Get in touch with us and explore the possibilities of our team creating custom AI solutions tailored for your needs.
Learn More
Alternatives