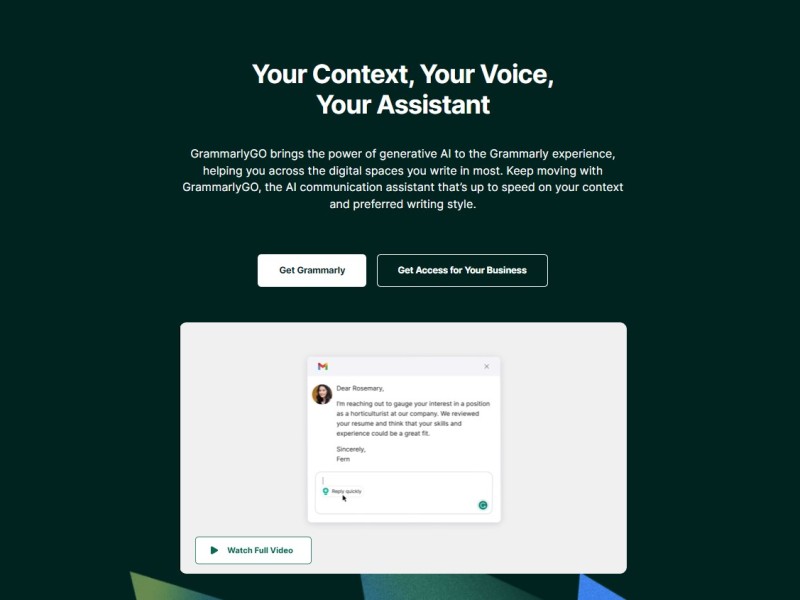 GrammarlyGO is an AI communication assistant that utilizes generative AI to enhance writing across digital platforms. It provides personalized assistance, accelerates the writing process, offers rewriting suggestions, generates ideas, and facilitates email replies, all while adapting to the user's preferred writing style.
Accelerated Writing: Prompt GrammarlyGO with basic instructions to quickly generate polished drafts, saving time and unblocking ideas.
Personalized Assistance: Customize GrammarlyGO to work in your voice by adjusting profile options for tone, formality, and professional relevance.
Idea Generation: Access brainstorming tools and receive structure suggestions to jump-start any document and explore new perspectives.
Email Efficiency: Summarize and respond to emails quickly with context-specific prompts, facilitating prompt and effective communication.
Pricing Type: Freemium
Price: Paid Plans from $12/mo
Platform(s): API, Browser Extension, Desktop App, Integrations/Plugins, Mobile App, Web
---
Share this AI Tool:
---
Need custom AI solutions for your business?
At AI Scout Solutions, we build AI tools tailored to your unique requirements. Get in touch with us and explore the possibilities of our team creating custom AI solutions tailored for your needs.
Learn More
Alternatives