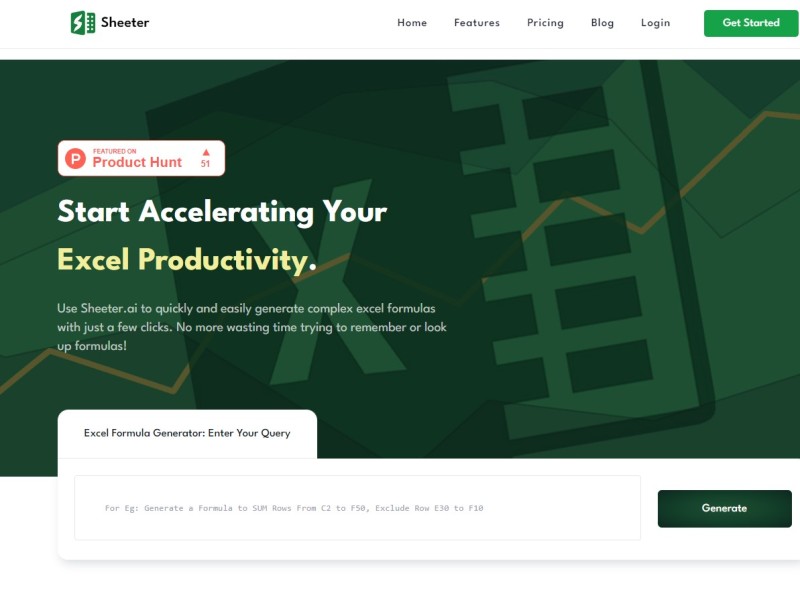 Sheeter.ai is an advanced AI tool that revolutionizes Excel productivity by generating complex formulas with just a few clicks, saving users time and eliminating the need to remember or look up formulas.
Efficient Formula Generation: Easily generate complex Excel formulas by entering a query into the search bar, allowing users to focus on their business instead of spending time on formula creation.
Compatibility and Integration: The generated formulas are compatible with both Excel and Google Sheets, providing flexibility and convenience for users who work with different spreadsheet platforms.
Customization: Sheeter.ai is highly customizable, allowing users to tailor the tool to their specific needs, whether they require specific formulas or want to create entirely new sheets.
Increased Productivity: By automating the formula generation process, Sheeter.ai enhances productivity and efficiency, enabling users to accomplish more in less time and achieve better results.
Pricing Type: Paid
Price: Plans from $2/mo
Platform(s): Web
---
Share this AI Tool:
---
Need custom AI solutions for your business?
At AI Scout Solutions, we build AI tools tailored to your unique requirements. Get in touch with us and explore the possibilities of our team creating custom AI solutions tailored for your needs.
Learn More
Alternatives