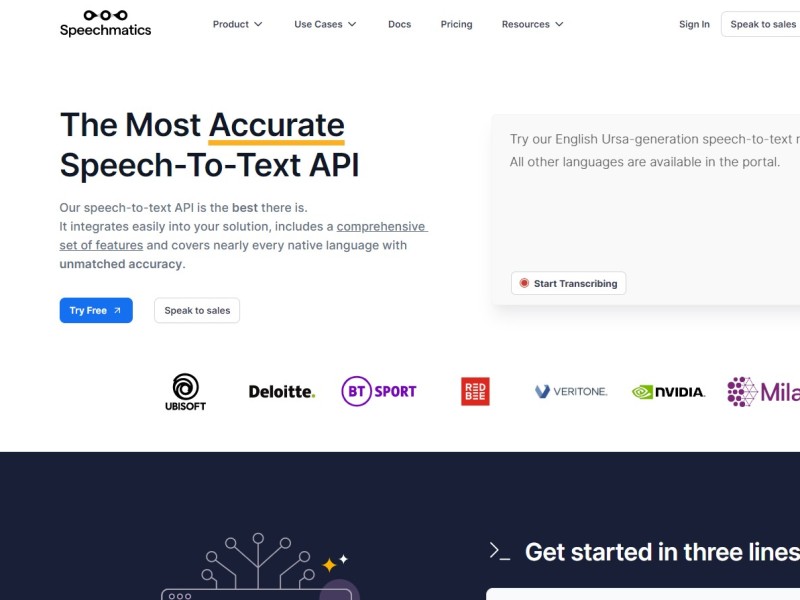 Speechmatics offers the most accurate speech-to-text API that integrates seamlessly into various solutions. With unrivaled accuracy, comprehensive features, wide language coverage, and flexible deployments, Speechmatics sets the standard for high-quality speech recognition.
Unrivalled Accuracy: Achieve 20% higher accuracy compared to other vendors, regardless of accent, demographic, or background noise
Comprehensive Features: Benefit from streaming support, speaker labels, translation, and more to deliver compelling end-user experiences
Wide Language Coverage: Access speech recognition for 48 languages and counting, covering nearly half the world's population with exceptional accuracy
Flexible Deployments: Deploy the API on Cloud, OnPrem, or OnDevice to meet security, privacy, and data sovereignty requirements
Pricing Type: Free Trial
Price: Pay as you Grow
Platform(s): API
---
Share this AI Tool:
---
Need custom AI solutions for your business?
At AI Scout Solutions, we build AI tools tailored to your unique requirements. Get in touch with us and explore the possibilities of our team creating custom AI solutions tailored for your needs.
Learn More
Alternatives