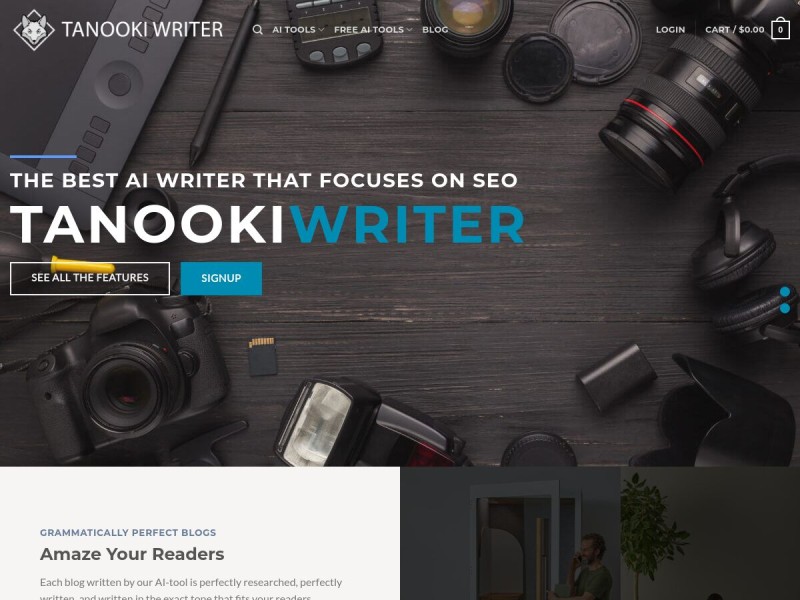 TanookiWriter is an AI-powered writing tool specifically designed for creating SEO-optimized blogs. It generates grammatically perfect blog posts with full introductions, well-researched content, conclusions, key takeaways, and FAQs, while also providing SEO optimization features like title suggestions, meta descriptions, link structures, and keyword inclusion.
Grammatically Perfect Blogs: Create blogs that are perfectly researched, well-written, and tailored to your readers
SEO-Optimized Content: Generate SEO-optimized blog posts from the start, including title suggestions, meta descriptions, keyword optimization, and image suggestions
Complete Blog Elements: Craft comprehensive blog posts with introductions, content, conclusions, key takeaways, and FAQs
Additional AI-Powered Tools: Access a range of AI-powered tools for business, marketing, and SEO purposes, including image alt-tag renamer, blog rewriter, content calendar creator, newsletter creator, and more
Pricing Type: Free Trial
Price: Plans from $35/mo
Platform(s): Web
Promos: Coupon Code: AIScout – 20% off any subscription or purchase.
---
Share this AI Tool:
---
Need custom AI solutions for your business?
At AI Scout Solutions, we build AI tools tailored to your unique requirements. Get in touch with us and explore the possibilities of our team creating custom AI solutions tailored for your needs.
Learn More
Alternatives