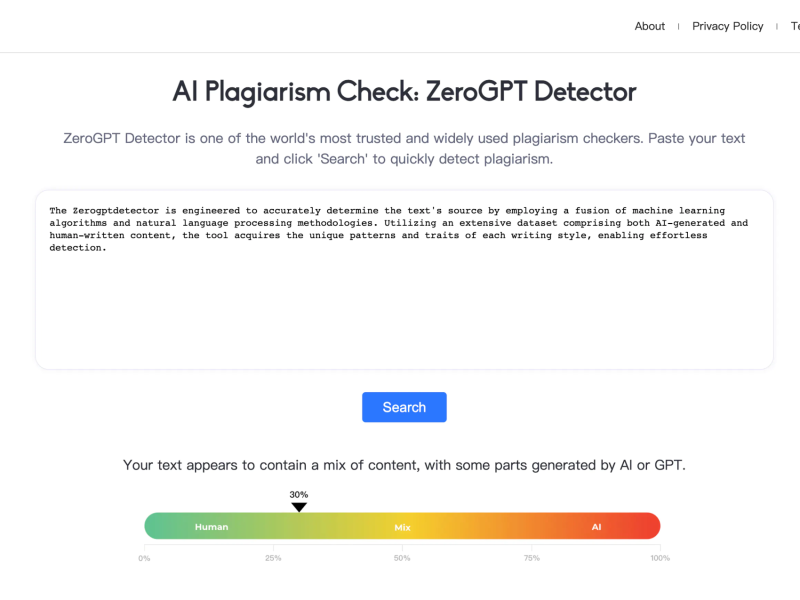 ZeroGPT Detector is your go-to solution for identifying AI-generated text. Its advanced AI detection technology helps users discern authentic human-written content from AI-generated compositions, ensuring content integrity and originality in just a few clicks.
Fast and Accurate Detection: Quickly and accurately detect plagiarism and differentiate between AI-generated and human-written content.
Easy-to-Use Interface: Paste the text and click "check" for instant feedback, providing effortless AI detection.
Wide Language Support: Supports a broad range of languages, with stronger performance in widely spoken languages such as English, Spanish, Chinese, and French.
Enhance Writing Skills: Gain insights into AI-generated text, understand its characteristics, and improve writing skills through the detection and analysis of content.
Pricing Type: Free
Platform(s): Web
---
Share this AI Tool:
---
Need custom AI solutions for your business?
At AI Scout Solutions, we build AI tools tailored to your unique requirements. Get in touch with us and explore the possibilities of our team creating custom AI solutions tailored for your needs.
Learn More
Alternatives