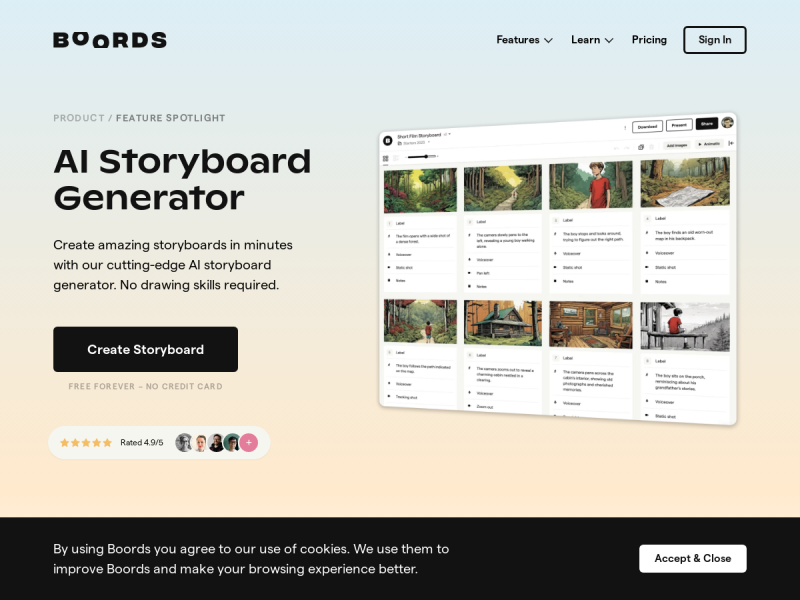 Boords' AI Storyboard Generator is a cutting-edge tool that allows users to easily create stunning storyboards in minutes, without the need for drawing skills. With the power of AI, users can generate complete scripts with direction, sound, and action notes, as well as turn text prompts into vibrant scenes and visuals in various styles.
AI-powered script generation: Type your ideas into the AI Script Generator to create a complete script with direction, sound, and action notes
Text-to-Image feature: Use the Text-to-Image feature to generate images from your script, eliminating the need for drawing skills
Drag-and-Drop interface: Easily create new scenes or characters with the intuitive drag-and-drop interface, allowing for easy iteration of your storyboard
Multiple style options: Choose from over a dozen styles, from traditional sketches to neon-punk aesthetics, to enhance your storytelling and make your storyboard unique
Pricing Type: Free Trial
Platform(s): Web
---
Share this AI Tool:
---
Need custom AI solutions for your business?
At AI Scout Solutions, we build AI tools tailored to your unique requirements. Get in touch with us and explore the possibilities of our team creating custom AI solutions tailored for your needs.
Learn More
Alternatives