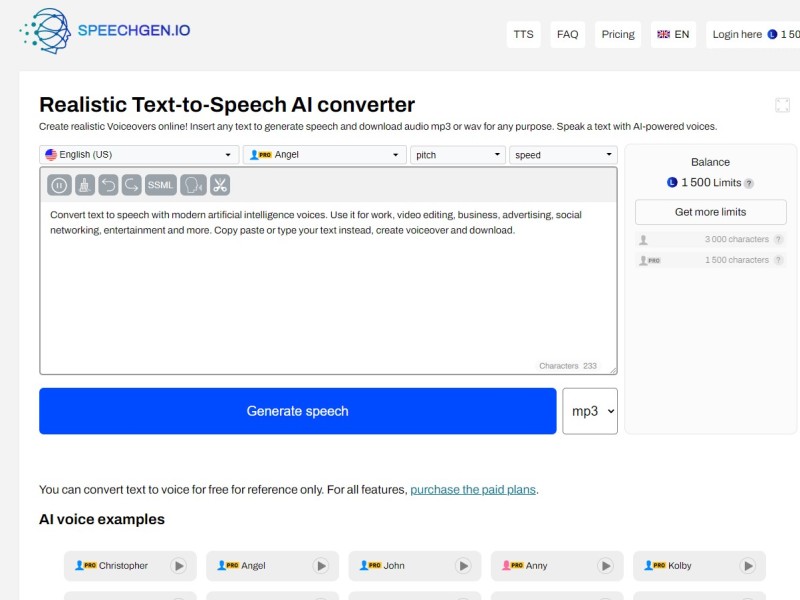 SpeechGen is an AI-powered Text-to-Speech (TTS) converter that enables users to create realistic voiceovers online for a variety of purposes. With an affordable pricing structure starting at $0.08 per 1000 characters, SpeechGen offers a range of features, including customizable speech parameters, multiple voice options, and the ability to download audio files in MP3, WAV, and OGG formats.
Downloadable TTS: Users can download converted audio files in MP3, WAV, and OGG formats for free.
Large Text Handling: The service can handle up to 2 million characters per conversion, with no limit on text length.
Commercial Use: Users can utilize the generated audio for commercial purposes, such as YouTube, TikTok, Instagram, social media, video ads, and more.
Customizable Speech Parameters: SpeechGen provides control over speech parameters, including speed, pitch, stress, pronunciation, and more, with SSML support and over 270 natural-sounding voices.
Pricing Type: Freemium
Price: $5 for 25k Characters
Platform(s): API, Web
---
Share this AI Tool:
---
Need custom AI solutions for your business?
At AI Scout Solutions, we build AI tools tailored to your unique requirements. Get in touch with us and explore the possibilities of our team creating custom AI solutions tailored for your needs.
Learn More
Alternatives