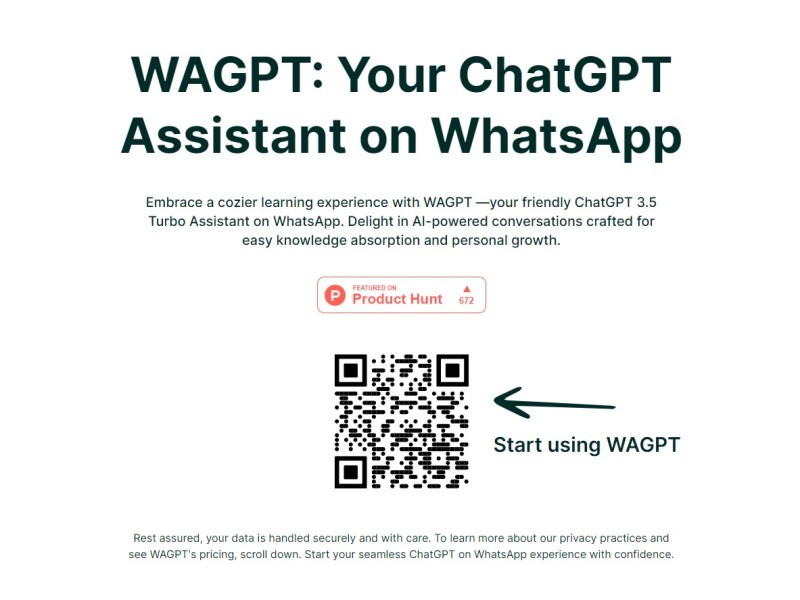 WAGPT is an AI-powered ChatGPT 3.5 Turbo Assistant available on WhatsApp, offering voice and text messaging capabilities for seamless interactions. With WAGPT, users can gain instant AI-generated insights, personalized learning experiences, and access to valuable knowledge right within WhatsApp.
Instant Insights: Receive immediate, AI-generated answers to your questions within WhatsApp
Voice Capability: Utilize voice recognition to send voice messages and enhance your interactions
Personalized Learning: Engage in dynamic, AI-driven conversations tailored to your interests and needs
Secure & User-Friendly: Enjoy a seamless, secure, and user-friendly AI chat experience with WAGPT
Pricing Type: Paid
Price: Paid Plans from $9/mo
Platform(s): Whatsapp Bot
---
Share this AI Tool:
---
Need custom AI solutions for your business?
At AI Scout Solutions, we build AI tools tailored to your unique requirements. Get in touch with us and explore the possibilities of our team creating custom AI solutions tailored for your needs.
Learn More
Alternatives