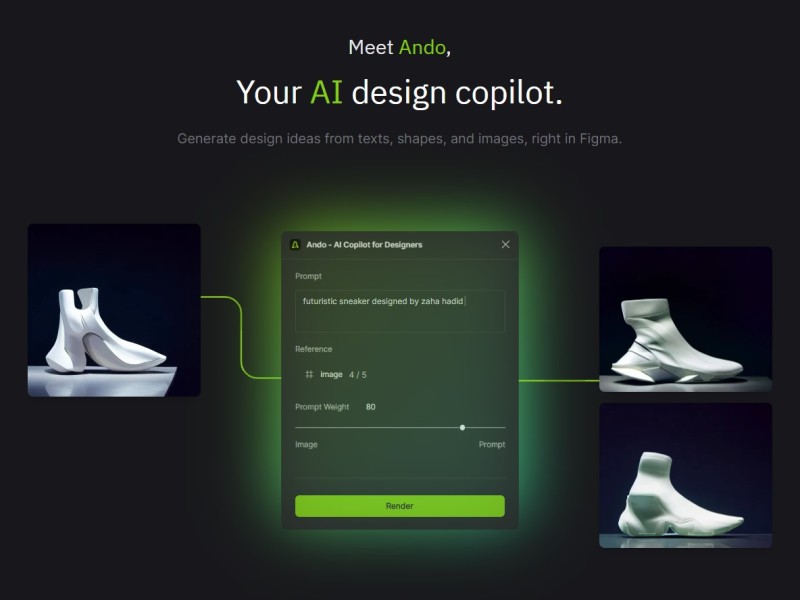 Ando AI is a powerful Figma plugin that utilizes the latest AI technology to generate a multitude of design ideas from prompts, shapes, and images. With its user-friendly interface, designers, marketers, and developers can easily access a vast array of professional-quality design inspirations and variations.
Design idea generation: Generate a wide range of design ideas directly within Figma by utilizing Ando's AI algorithms that analyze prompts, shapes, and images to provide creative inspirations.
Seamless Figma integration: Access Ando's design generation capabilities seamlessly within the Figma platform, allowing for a smooth workflow integration and enhanced creativity.
Detailed prompts and image analysis: Write precise and concise prompts, or utilize images as references, to guide Ando's AI in generating custom-designed variations and inspirations.
User-friendly interface: With its intuitive and easy-to-use interface, even individuals without a background in graphic design can leverage Ando to create professional-quality images and explore the possibilities of AI within Figma.
Pricing Type: Freemium
Price: Paid Plan for $18/mo
Platform(s): Figma Plugin
---
Share this AI Tool:
---
Need custom AI solutions for your business?
At AI Scout Solutions, we build AI tools tailored to your unique requirements. Get in touch with us and explore the possibilities of our team creating custom AI solutions tailored for your needs.
Learn More
Alternatives