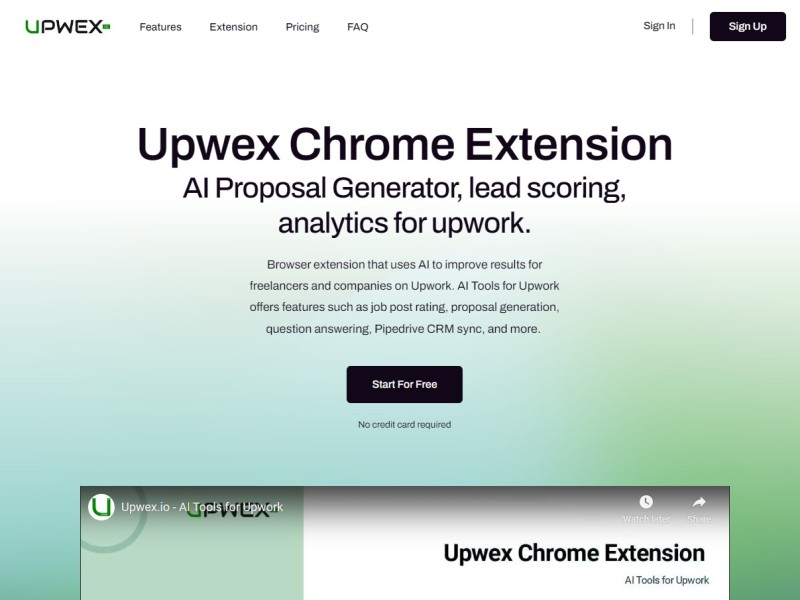 Upwex harnesses the power of AI to enhance freelancers' and companies' performance on Upwork. It provides features like job post rating, AI-powered proposal generation, question answering, Pipedrive CRM sync, and more to optimize workflow and boost success on Upwork.
Job Rating: Analyze Upwork job postings using AI to find suitable projects faster and rate job posts based on client and job history
Integration with Pipedrive CRM: Sync contacts and messages with Pipedrive CRM, ensuring seamless integration and simplified management
AI-Powered Proposal Generator: Generate professional proposals automatically based on job post analysis, increasing chances of securing projects successfully
AI-Powered Q&A: Generate technical responses to job post questions on Upwork, saving time and improving efficiency in client communication
Pricing Type: Free Trial
Price: $20/mo
Platform(s): Browser Extension, Web
---
Share this AI Tool:
---
Need custom AI solutions for your business?
At AI Scout Solutions, we build AI tools tailored to your unique requirements. Get in touch with us and explore the possibilities of our team creating custom AI solutions tailored for your needs.
Learn More
Alternatives